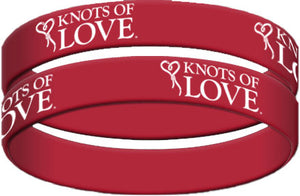 One for you and one for a friend or family member!
A great way to show your support and create a conversation that helps spread the Knots of Love mission!  Human connection is what we are all about -- and we love how these help people connect and talk and share!
One of our office team wears and gives these away right off of their wrist when talking about Knots of Love to someone out in the world... "Here, you can have mine. :)" and it makes people happy and spreads the word about our difference-making charity
About:
These are adult-sized wristbands (like the famous LIVESTRONG bracelets) to support our work providing free beanies and lots of love to people in need.

Millions of people living in the United States are currently undergoing chemotherapy -- Support them by wearing a Knots of Love wristband and send love to them everywhere you go!